A lot of time and effort goes into doing up the interiors of a home. Designing and building your dream home is no easy fete. While the exterior of the building is important, we spend the most time and energy in choosing the best interiors for our home.
And many homeowners love to decorate their walls with beautiful wallpapers. Wallpapers help you create the right mood and aesthetics for your home. They also add a layer of protection to your walls. They can give your interiors a unique look which is perfect for every type of interiors.
Choosing the right wallpapers is a critical decision. From vintage florals to urban greys, there are a lot of choices in wallpapers and one must be careful to make the right one. There are many things to consider when choosing a certain wallpaper for each room, but the most important is to ensure that it matches with the rest of your home interiors.
Slimstone has some of the best slate stone wallpapers in India. Browse through our catalog to find the best one for your home interiors now.
1. Stick To The Same Style Throughout The House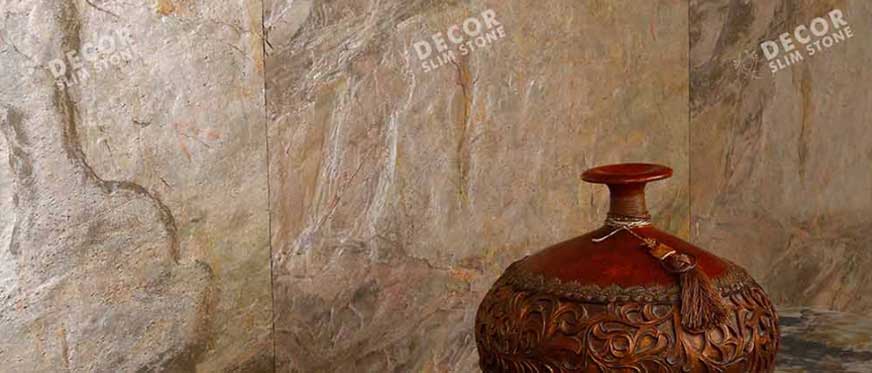 Once you start looking at wallpapers, you are going to be overwhelmed with the sheer number of colors and patterns available. Let this not confuse you. Stick to a particular style or theme to design your entire home. This way, your interiors won't be jarring. You and the interior designer should sit down together to find the right wallpaper that matches the theme and style that you want your home to reflect.
2. Color, Shade And Hue
With modern printing technology, wallpapers are available in a myriad of colors. You can even customize them to the desired shade and hue to bring out the elegance of your home. But ensure that the color pallet matches the space of the room. Big rooms can do with dark coloured wallpapers while smaller spaces should have bright coloured ones to tap natural light and make the space look bigger and brighter.
Slate stone wallpapers are a great choice for any space as they are elegant and can be customized to your needs. Find the best quality slate stone wallpaper in India from Slimstone.
3. Find Textures That Can Hide Imperfections
For walls that are prone to some minor scratches and dents, you can use textured wallpaper. They not only cover up these imperfections but also help you create a unique and designer aesthetic on the wall.
It is also important to give your wallpapers a finishing touch. Adding a beautiful finishing touch like a frame or a picture with an edge will make your walls look more appealing than ever. Some of the most common wallpapers are marble, wooden, bamboo, slate, and cork. These are natural textures which can hide the imperfections of the walls.
4. Don't Forget The Furnishings
When deciding on a wallpaper, take into consideration that it should ideally complement your other furnishing and decor items. You should always aim for harmony and in this, the wallpaper comes into play. Make sure the furniture arrangement follows the interiors as well. The furnishing you plan for the space must not clash with the theme and style of the wallpapers and vice versa.
If all this seems a bit overwhelming, come to Slimstone, reputed slate stone wallpaper makers in India. We will help you find the best wallpaper for your home interiors.
5. Don't Be Shy To Shop Around
You may find that the same design or style is available in different colors and with different patterns. You may have a particular design in a specific shade and the dealer might not have it with them. In that case, do not settle; make sure you shop around and avoid settling for something unsatisfactory. If you want to purchase the best wallpaper, make sure you do not shy away from visiting a number of dealers.
Conclusion
Wallpapers can make or break your home Decor. Make sure you select the right color and design. This will ensure that the wallpapers you select, will complement your other Decor items and make the room look appealing.
Before you shop for a new wallpaper, understand the design and style that are present in your home as they set the tone for your entire space and they help create a calm atmosphere that makes you feel relaxed and homely.
Slimstone houses the best slate stone wallpapers in India, that come in a number of colors, designs and finishes. Call us to get the best quality wallpapers delivered to you. Our experts will guide you in the various options available for your home and find a stylish slate stone wallpaper for your home walls.