Product Spotlight: Ultrathin 1MM Super Flexible Stone Veneers
The Thinnest & Lightest Natural Stone Veneers on the Market
Décor Slim Stone is one of the leading flexible stone veneer suppliers in India. We have a wide range of thin, flexible stone veneers to suit various applications. In this guide, we highlight the benefits of our best-selling 1MM flexible stone veneers – the lightest and slimmest flexible stone veneers on the market.
What is the 1MM flexible stone veneer?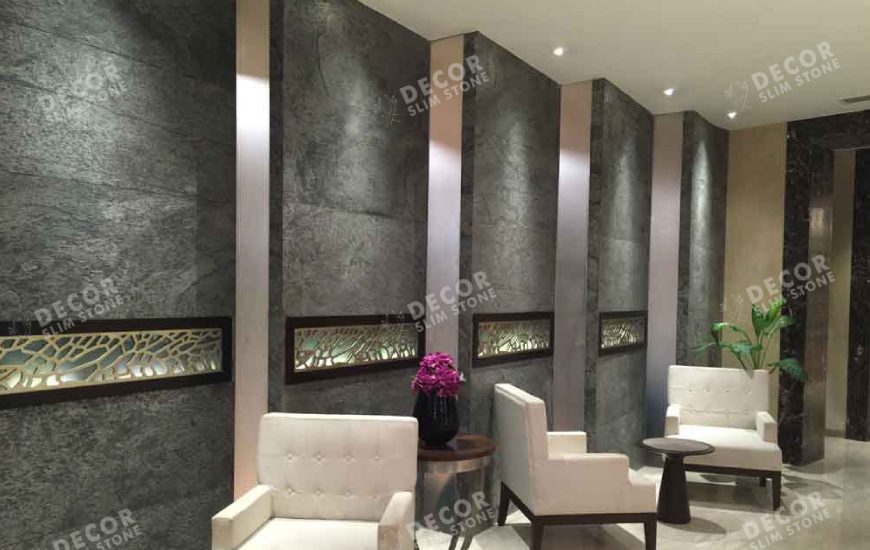 Our 1MM stone slim veneer is manufactured using real stone. Handpicked natural stone slabs are cut into thin strips and backed on a thin cotton fabric backing. As the name indicates, 1MM flexible stone veneers are just 1mm in thickness. The ultra slim nature of these stones make them an ideal choice for all applications.
Here are some of the highlights of this incredible building product:
Ultrathin – just 1mm
Extremely easy to handle
Flexible and adaptable
Easy to transport and store
Fast installation
Minimal maintenance
Superior aesthetics
Eco-friendly
Available in large sizes up to 150 x 280cm
This remarkably beautiful looking product is made by extracting thin natural stone layers chemically. Our 1MM ultrathin stone veneers are made from natural stones like sandstone, quartzite, slate, and granite. These natural stone layers are extracted into thin sheets which is then applied to a strong fabric backing. Our 1MM ultrathin stone veneer can be applied on top of different substrates including: brick walls, concrete, plywood, metals, wood, honeycomb, PDF, etc.
Salient Features of 1MM Ultrathin Flexible Stone Veneers from Décor Slimstone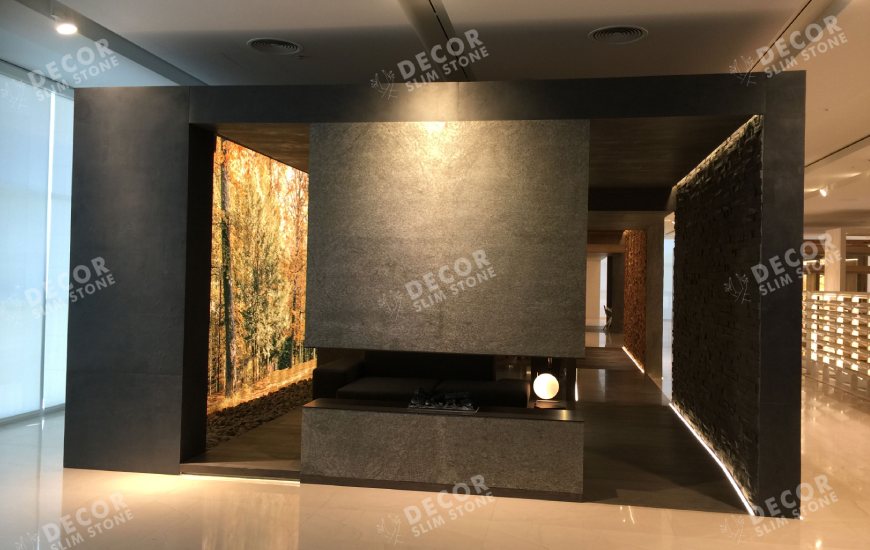 Thinnest and lightest flexible stone veneer
The product is super thin and can be used on a wide range of substrates. It works well for pillars, cabinets, doors, furniture and other irregular-shaped substrates. The flexibility of the material lends elasticity and greater strength to the finished product.
Best Characteristics
Thin stone veneers are lightweight, corrosion-resistant, easy to install, quick to install, low preparation cost, and highly adaptable.
Flexibility – The flexible nature of thin stone veneers makes it possible to install on a variety of surfaces including curved surfaces.
Lightweight – Making it easy to transport and quick to install.
Moisture Resistant – Since flexible stone veneers are made from natural stone, they are naturally moisture-resistant. So, you don't have to worry about mould and other problems.
Low cost – This is one of the biggest advantages of flexible stone veneers. They are easy to cut and lay on any type of surface. When compared with natural stone slabs, flexible stone veneers cost just a fraction of the price, despite being made with the same product.
Available in a wide variety of colours and finishes – At Décor Slimstone, as the leading wall coverings suppliers in India, we have a wide range of choices. Whether you're looking for traditional finishes or modern contemporary finishes, we can help you out.
Available Sizes
At Décor Slimstone, our 1MM Ultrathin super flexible stone veneers are available in the following sizes:
Standard Sizes: Ranges from 61 x 122cm to 122 x 244cm
Customised Sizes: Available from 30 x 30cm to 122 x 280cm
Available Colours
Stone
Style
Product Name
Quartzite
Madrid
1MM Stone Slim Veneer – Décor Slim – 4Q-o
Rome
1MM Stone Slim Veneer – Décor Slim – 4Q-p
Tokyo Emerald
1MM Stone Slim Veneer – Décor Slim – 4Q-M
Dubai Copper
1MM Stone Slim Veneer – Décor Slim – 4Q-t
Slate
Hong Kong Metal Nero
1MM Stone Slim Veneer – Décor Slim – 4S-I
Moscow Sesame Black
1MM Stone Slim Veneer – Décor Slim – 4S-H
Vienna Hessonite
1MM Stone Slim Veneer – Décor Slim – 4S-L1
Seoul Macedonian
1MM Stone Slim Veneer – Décor Slim – 4S-k2
Seoul Macedonian
1MM Stone Slim Veneer – Décor Slim – 4S-k1
Helsinki
1MM Stone Slim Veneer – Décor Slim – 4S-n
To know more about the product, cost, shipping methods and other info, drop in an email to pm@decorslimstone.com and our team will help you with all the details.