The Complete Furniture Pairing Guide with your Flexible Stone Veneer Walls
Mother Nature has been producing granite and river rock for millions of years. And mankind has been experimenting with stone veneers for centuries. Adding such geologic wonders to your home's decor has always been a challenge. It once cost a small fortune to ship a few tons of precious and beautiful rock to your front door.
However, all that has changed. Natural stone can now be carved into thin slices that are light enough to transport almost anywhere. And, the best part – these thin slices of stones, known as Flexible stone veneers, look just like natural stone and can be used in various application.
The manufacturing process involves mixing concrete with a dozen or more pigments seamlessly blended in moulds to form the final contours that look just like regular stones. The best part the colours you infuse into stone veneers run through all the layers giving you uniform appearance.
Due to the many benefits of Flexible stone veneers, they are rapidly making their way into virtually every room in the house, in a sweeping range of styles. You'll find them popping up outdoors, too. From backyard kitchens to bathroom walls, rustic bedroom walls to stylish dining rooms and kitchens, lightweight veneers are remarkably versatile.
In this blog, we are going to explore the different ways you can pair your furniture with the right stone veneers. You can checkout our previous article on Stone Veneers: The Versatile Interior and Exterior Choice for Your Home to get better idea.
A piece of furniture is not just a utility product. But, it can change the entire look of the room or the space. You just need the right thing at the right place. For instance, a small hammock in the garden can change the entire look of the garden and make it welcoming and relaxing.
Let's see some of the methods to combine the Flexible stone veneer and furniture.
Furniture and Stone Veneers in contrasting colours
Colour plays a major role in designing, the colour of the stone or furniture can rapidly change the mood of the room of the space you are decorating. Contrasting colour combinations always create magic in space. A contrasting combination like red and white, black, and white are classics. No other style can match the vibe they give to the viewer. A black majestic colour chair behind a white stone veneer looks majestic and stylish.
Furniture and Stone Veneers in the same colour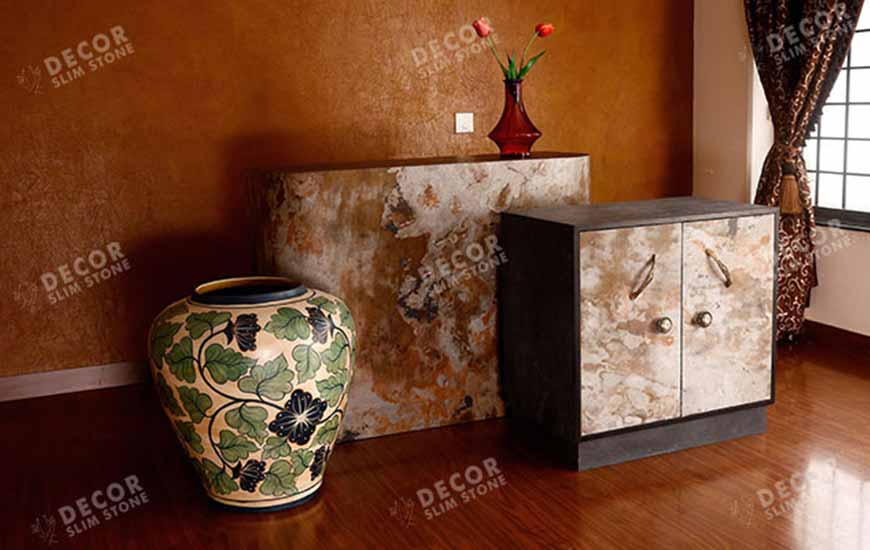 Contrasting colour will not always be beautiful, you can get tired of it. Matching the stone veneer with same colour furniture can bring a classic and elegance to space. You can select furniture from a similar colour palette of the stone veneer. Having a similar colour can change the entire look of the space. It even makes space look more spacious.
Furniture as a Natural Element in the Room
You can stay in its own colour of the furniture, opting for colours which don't go with the stone veneer. It is better to opt for the colour that is at is own nature. The natural colour of the wood will go with most of the stone veneer designs.
Furniture as part of Stone Veneer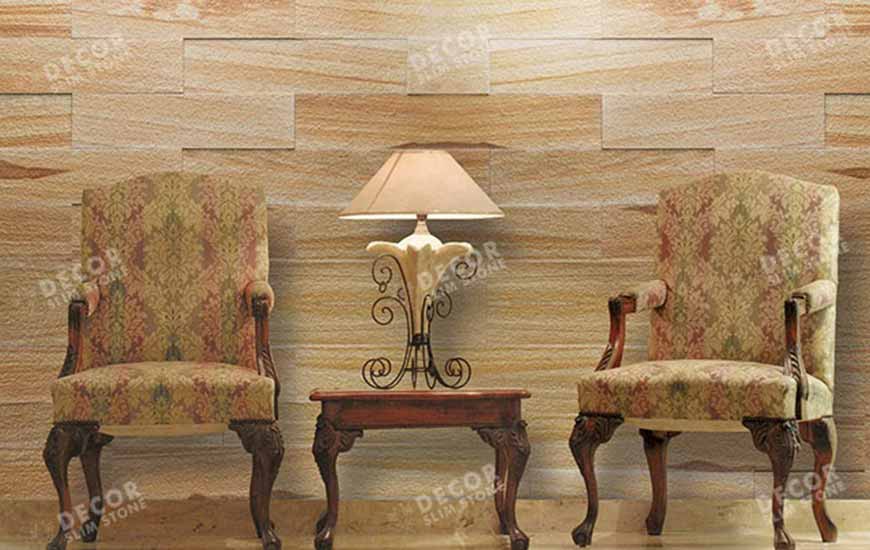 Why separate stone banner and furniture, you can add the stone to the furniture. You can add your favourite piece of stone veneer to your favourite piece for furniture. This will complete the look of the room. You can combine the favourite piece of furniture and stone veneer to bring magic. This technique can bring a vintage look to your room.
You saw the amazing and exciting options to explore. You can opt for the methods mentioned above, or you can bring the creativity of your own. At the end of the day, all it matters is you should not feel unhappy about the decoration of the space. Any space or room in your home or space should bring happiness.
If you are searching for some great stone veneer at competitive pricing and huge variety, you've come to the right place. Here at Décor Slim Stones, we are leading Flexible stone veneer supplier in India. We are here to support you.
We are leading natural and manufactured Flexible stone veneer supplier India and also other major countries like Germany, Italy, and much more. We have set our foot as a globally trusted brand with customer satisfaction and premium stone veneers.
You can view our product on our official website. For enquiries on our products give us a ring at +91-82856 44444 or write to us at pm@decorslimstone.com