Design Inspiration + Quick Tips on Creating Beautiful Feature Walls using Laminate Wall Planks
Are your walls looking tired and dull? Accent them with laminate wall planks and give a fresh look to your interiors!
Whether it's a bedroom, living room or a hallway – an accent wall is an excellent way to infuse personality and depth into a room. It can help in creating a unique style to your interiors, taking your walls from bland and boring to pretty and appealing.
When it comes to accent walls – there are no hard and fast rules. It's all about what appeals to your style and the layout of your room. You can keep the feature walls subtle or go bold with bright colours and prints. Depending on how you use accent walls, you can make your interiors – bright and modern or rustic and cosy.
Before we get to the tips and design inspiration, let's first work out the basics.
How to create feature walls using wall panelling?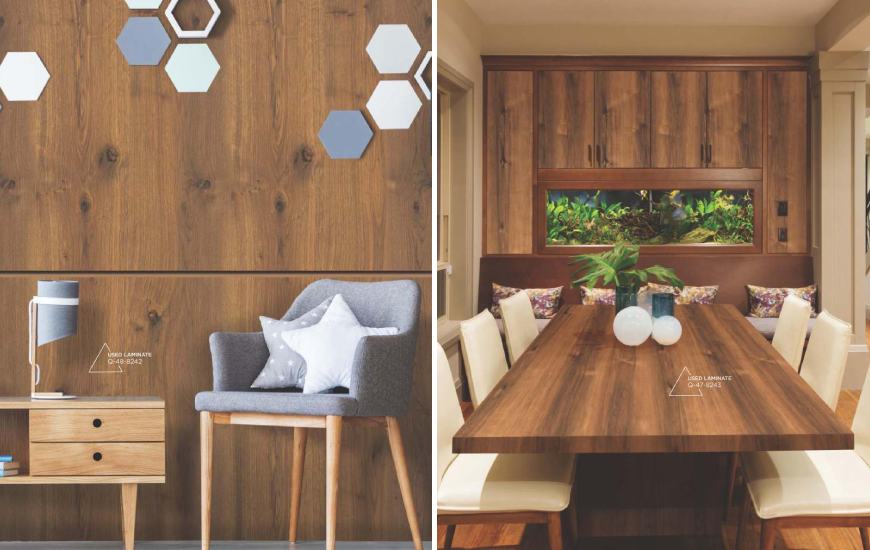 Traditionally, wooden wall panels were used on the walls to act as an insulation between the cold stone walls of the room and the interiors. Today, wall panels are used to create feature walls to enhance the aesthetic appeal of a room. Along with adding to the beauty of the room, laminate wall panels also help in hiding unsightly electrical cables, and other wall damages. It also helps in providing structural support to walls.
Laminate wall panels can be installed on walls in two ways:
By screwing the wood planks directly onto the wall. This works for smooth walls and lightweight panels like laminates.
Alternatively, if your walls are structurally weak or you're using heavy weight wooden plans, then the panels are skewed onto the grid.

Now, that you've understood what is wall panelling, let's see how we can create striking feature walls using laminate planks.




#1: Start by deciding the Colour Theme




Once you decide to add a feature wall to your home, the first choice you'll have to make is deciding the colour. The colour palette you choose will make the wall stand out or blend in with the surroundings.

Design Tip: Ideally, you should choose wall panels in two main colours and a slight hint of a third colour. By making the first two colours neutral and the third colour bold and bright, you can add flair to the space.

While choosing the colours of the feature wall, you need to ask yourself a few key questions – do you want to open up the room? Picking warm colours makes the room comfortable and inviting, while cool colours create a more intimate space.




#2: Let your Eyes Help You




Now, that you've finalised the colour tones for the accent walls, the next step is to decide which wall should you convert into the feature wall. When you enter the room, where does your eye go naturally? Is it drawn to the wall behind the TV or the bed? The place where your eyes are drawn naturally is where you should position the accent wall.

An accent wall is ideally used to highlight the key features in a room. For instance, an accent wall behind a staircase or behind the TV adds depth to the area. It makes the room come alive. Another option for an accent wall is the wall behind the headboard of the bed in your bedroom. It anchors the furniture in the room and draws your eye naturally to the main furniture piece.




#3: Use Patterns to Tie it all Together




Laminate wall panels are back in style and are trending. By choosing the right patterns and texture, you can tie every element of the room together with an accent wall. A striking floral or geometric patterned accent wall can add a contemporary vibe to a neutral room. On the other hand, wood-textured accent walls add warmth and rusticity to the room, giving it a homely feel. So, don't shy away from patterns. Experiment different styles till you get the right one.

As one of the leading decorative laminate suppliers in India, we have an extensive range of laminate wall panelling. Get in touch with our design team for more inspiration and guidance on how to pick the right wall panels for your home.




Laminate Wall Panels are a Great Choice for Accent Walls




If you love the warmth and cosy feel of wood, then you can opt for decorative laminate wall panels from Decor Slimstone. Our laminate wall planks help you replicate the feel and texture of wood for a fraction of the price and labour. Our panels are easy to install on walls, and do not require extensive structural changes.

If you're after a more rustic style, then you can choose our refurbished wooden wall panels for a more authentic and rustic look. No matter the style of your interiors, we've got the perfect wall coverings. Decor Slimstone is the No.1 wall coverings suppliers in India. With plenty of choices, we can help you find the right planks to create a stunning accent wall in your home.