Incredible Benefits of Using 3D Peel and Stick Thin Stone Veneers
The biggest draw of 3D Peel and Stick Thin Stone Veneers is that it's effortless to install and pocket-friendly.
Thanks to self-adhesives, our range of peel and stick, thin stone veneers can be installed within a few minutes by anyone! Our peel and stick stone veneers feature an adhesive layer. Like applying a wall sticker, you can peel the backing paper and stick our stone veneers on any wall! The easy installation makes it an excellent choice for all DIY projects. You don't have to hire professionals to install our stone veneers. You can do it on your own.
As leading translucent stone veneer suppliers in India, Decor Slimstone has a wide range of 2D and 3D Peel & Stick Self Adhesive Tiles in various colors and textures. Choose over a dozen products in quartzite and slate veneers to adorn your interiors.
5 Reasons to Choose Decor Slim Stone 2D and 3D Self-Adhesive Peel & Stick Walling Panels
Let's take a closer look at the various benefits offered by our range of self-adhesive peel and stick stone veneers.
1. Easy Installation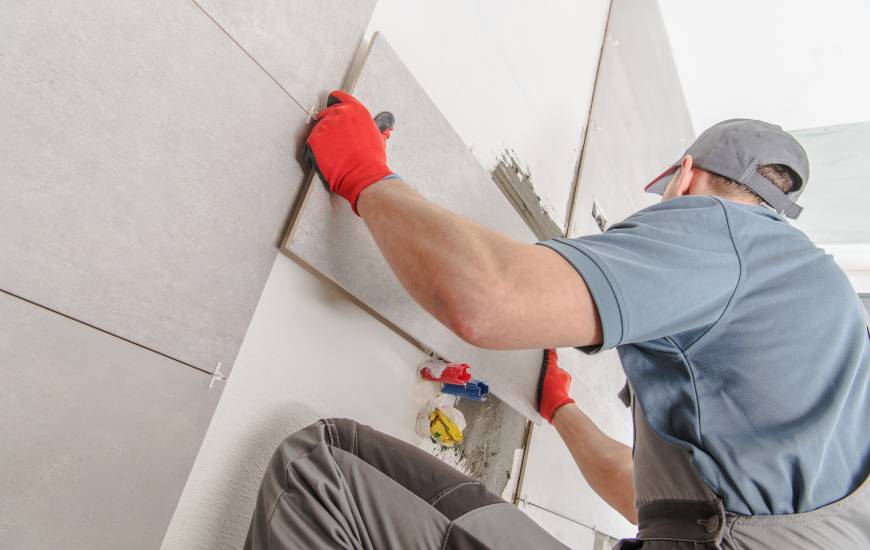 Thanks to the self-adhesive, it's easy to complete the installation by yourself and within a shorter time. All you have to do is remove the protective layer and press the stone veneers on a pre-treated wall. It's similar to applying stickers on walls—no need to hire professionals to complete the job. You can transform your interiors within a few hours by yourself.
2. Save Money on Installation Costs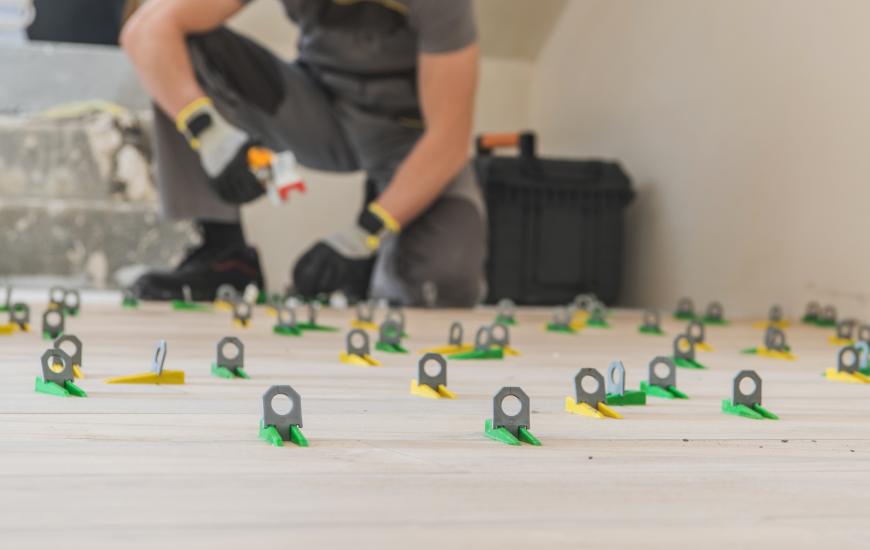 Since you can complete the installation by yourself, you don't have to spend thousands of rupees on labour costs. Irrespective of the size of the project, it can be completed quickly by amateurs. However, if you require the assistance of professional installation experts, we can help you connect with the right team.
3. Wide Selection of Choices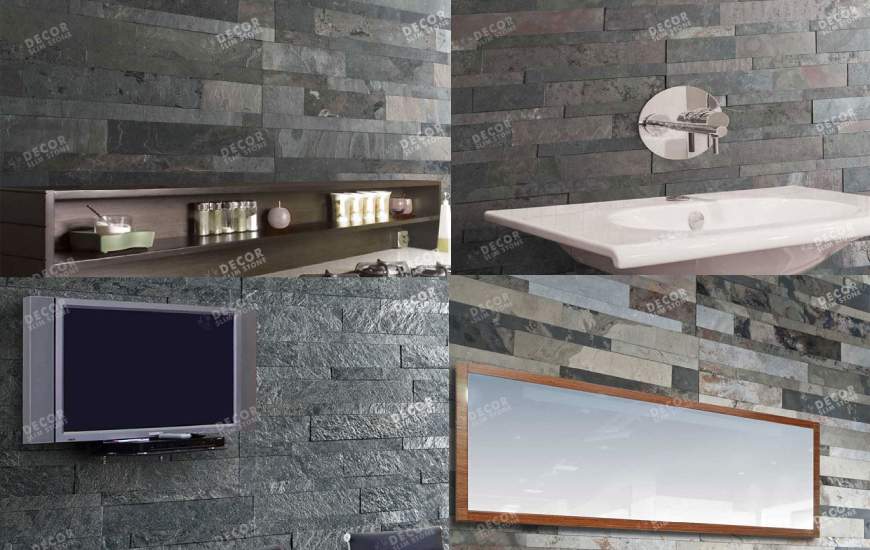 As the No.1 stone veneer manufacturers in India, we have a wide range of choices. Customers can choose from the different types of stones like marble, sandstone, granite, quartzite, slate, etc. Our peel and stick stone veneers are available in a wide variety of colours and textures to suit all interior styles. Finding the right veneer style that fits your tastes and interiors is incredibly easy.
4. Go for 3D styles to add an Extra Dimension to your Interiors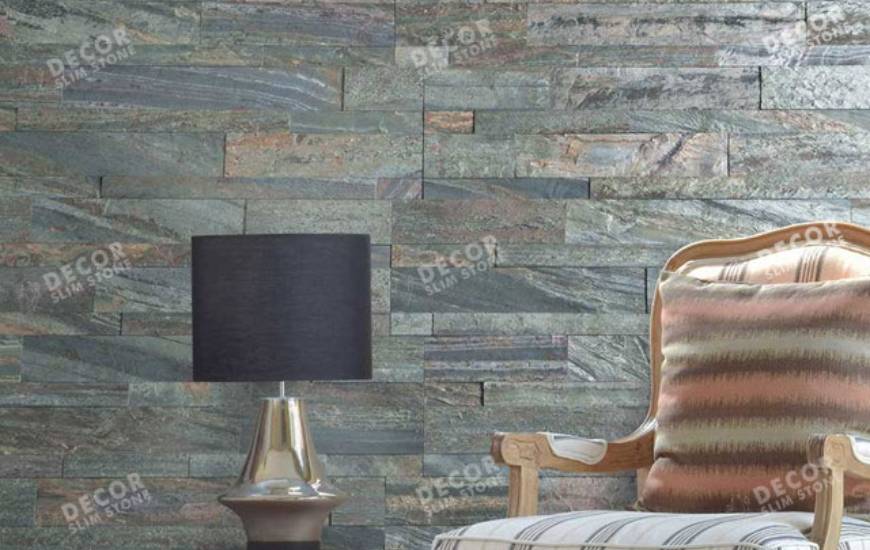 Besides our 2D collection, we have an extensive collection of 3D peel and stick stone veneers. Some of our best-selling stone veneers in this collection include Galaxy Granite, Madrid, Dubai Copper, Tokyo Emerald, Hong Kong Metal Nero, Moscow Sesame Black, Vienna Hessonite, Seoul Macedonian, and more. Our 3D stone veneers create a stunning visual effect in any room. Use our stone veneers and let your visitors be blown away with the beauty of our stone veneers.
5. Ideal for Living Rooms, Kitchens, Bedrooms and Bathrooms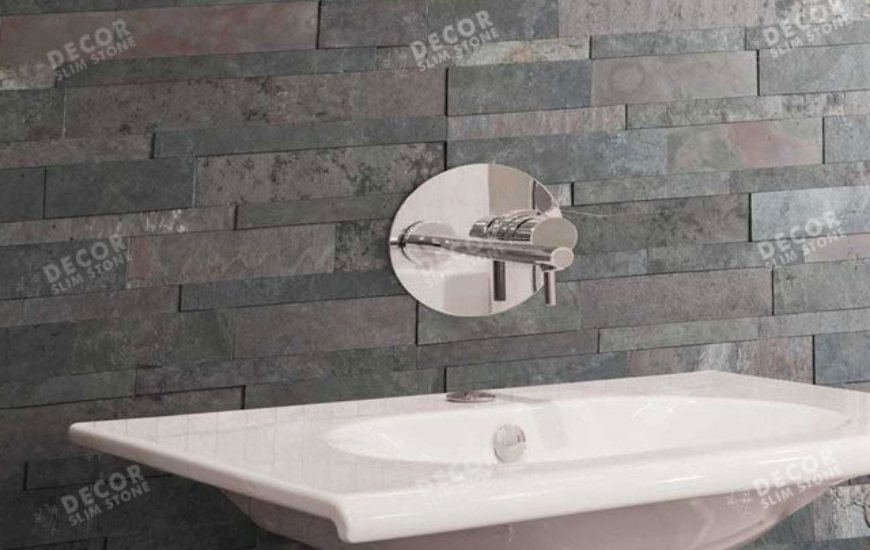 Whether you're looking to decorate your living room, bedroom, kitchen, halls, reception, or bathroom – our stone veneers are the perfect choice to let your imagination come true. Since our stones are pre-treated, they work well even for moisture-prone rooms like bathrooms, kitchens, etc.
About 2D and 3D Peel and Stick Walling Panels from Decor Slimstone
Our 2D and 3D self-adhesive thin stone veneers are made with extremely thin layers of natural stone featuring an adhesive backing. Our stones come with a protective film to prevent damage during transportation. Remove the protective film before installation. Before installation, plan the design. Then remove the backing paper at the back and arrange the stones on pre-treated walls to give a new dimension to your interiors.
For further enquiries, get in touch with our friendly team here at Decor Slimstone.