Veneers are a decorative material that is primarily used in home décor to cover or protect the surface of a furniture, wall, or floor. They are made of different types of materials, such as wood, plastic, or glass. Veneers are mostly used as an inexpensive way to change the look of a surface. The most common forms of veneer are applied using a machine or hand tools.
Veneer is obtained by cutting a thin sheet of wood or other material to the desired dimensions using a circular blade or other type of cutter. It is then bonded to the substrate using a variety of techniques. You can find high quality veneer designs at Slimstone, top veneer manufacturers in India. Browse our online catalog now!
Veneers are available in a variety of styles and designs, which makes them ideal for a variety of uses, such as creating a contemporary or rustic look, or to match a specific decor. They can be used for a variety of purposes including interior design and architectural design.
Basic Classifications Of Veneer
Veneers are primarily categorized based on their origin, their cut & grain, pattern, and finish.
1. Origin
Veneer wood panels are typically classified based on the tree from which they are derived, such as White Ash, Red Bridge, Cherry, Butternut, and many others. Many of these natural woods of the same species have color variations.
2. Veneer Cut & Grain Direction
The way veneer is cut will vary. Flat cut, half round cut (typically sliced), quarter cut (slicing method), rotary cut, and rift cut are all methods of cutting veneer. The grain direction of veneer also varies with cuts, as there are horizontal and vertical grains.
3. Patterns of Veneer
Matching veneer slices cut in different ways are used to create large veneer panels. To be honest, there is no limit to the number of patterns that can be developed by combining veneers of different cuts.
4. Veneer Finish
When veneer panels are manufactured, they are given various decorative finishes such as weathered effect, dyed metallic paint, smoked, fumed veneer, and many more. After the final production process, veneers are rated based on their intended usage. Veneer's face and back are evaluated differently depending on their application. As a result, one might assume that there are approximately 15-20 variants available in one veneer species.
Slimstone is a reputed veneer manufacturer in India and your one stop solution for all things veneer!
Some Common Types Of Veneer Widely Available In The Market
1. Natural Veneer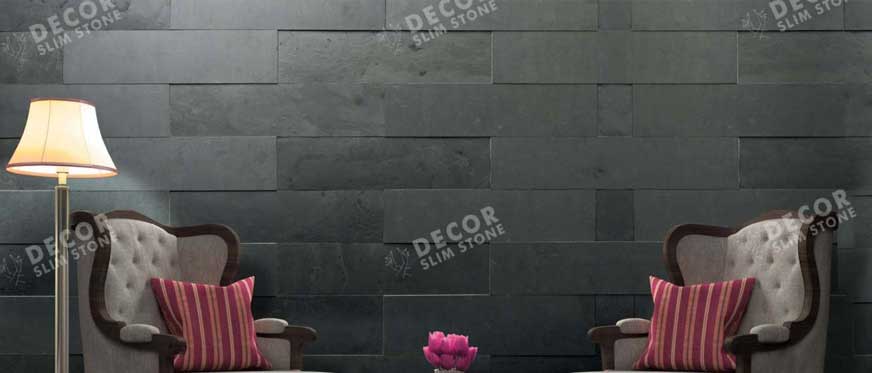 Natural veneer is obtained from the natural growth of tree species. It is often times obtained from the outermost layers of the tree, which means that the outer layer is removed without damaging the inner layer of the tree. Natural veneer has a very beautiful and distinctive appearance. This is the most common type of veneer. There are different types of natural veneer, depending on the type of wood, the natural environment, and other factors.
2. Fine-Line Veneer
It is a reconstructed veneer manufactured from natural wood using a sophisticated technology that may simulate several types of wood with specific dimensions and distinct hues. The major raw material in the fabrication of veneer utilizing fine-line technology is wood from fast-growing tree species.
Fine Line veneer is capable of emulating the structure of any wood species while maintaining a consistent shade. It lacks the common array flaws of knots, cavities, and knots.
The rotary cut veneer is cut into sheets of the right size, the elements are sorted, painted, and dried, and the finished sheets are bonded and pressed to make the desired design before being cut crosswise. An excellent technique to get the proper canvas textures at a low cost.
Find the best type of veneer for your home décor needs from Slimstone, a well-known name in veneer manufacturers in India. We assure high quality veneers to suit any budget.
3. Rotary Cut Veneer
Rotary cut veneer is cut from the center of a log. The end of the log is cut into a thin flat disk. The entire length of the log is then sliced into thin sheets. The sheets are then sorted and sorted into various colors and sizes.
It is a technique used to create a veneer with a consistent width and thickness. The veneer is cut into sheets of approximately 2.5 mm thick and then trimmed into uniform sizes. It is usually used to make decorative veneers.
4. Sliced Wood Veneer
Another type of veneer manufactured from precious wood species is sliced veneer (elm, ash, mahogany, beech, oak). The direction of planing is determined while making this type of wood veneer based on the pattern in a certain type of wood.
Unlike peeled veneer, sliced veneer has a distinct texture created by varying the angles of the cutting process and the work-piece planes.
Talk to veneer experts at Slimstone, leading veneer manufacturers in India, to learn more about the different veneer types and to choose the best one for your design needs.
5. Roll Veneer
This veneer type is created by splicing very thin planed sheets of high quality to make a roll. This type of veneer is highly appreciated by the interior designers and is usually manufactured by hand. This technique helps create a sheet of veneer with a consistent surface. It is used to make thin veneer panels or decorative veneer.
Veneers are versatile and budget friendly. They allow you to create wonderful, functional, and decorative pieces for your home. They are pretty durable and long lasting which makes them the perfect material for interior designers.
Slimstone is market leading veneer manufacturers in India. We manufacture and supply one of the widest range of Veneers to suit every taste and budget. Our veneers are manufactured from 100% natural wood species and are available in various finishes, shapes, thickness and sizes.
Call us today and set up a consultation with our designers to see how we can help you get the best results with your project.