Decor Slim Stone GmbH - flexible stone slim veneer in India
Stone Slim Veneer can be applied in almost every kind of area like floors, walls, ceilings, interior design, furniture, outdoor area and facades. For these areas we recommend different types of adhesives, for example: PU adhesive, epoxyde adhesive, 2 component adhesive and a few others depending on your application.
Tools to work with:
Stone Slim Veneer can be worked with any commercially available tools (DIY tools).
Sawing, drilling, milling, cutting, bending, pressing.
For industrial processing, we recommend using diamond blade tools due to strong wear on wood blades.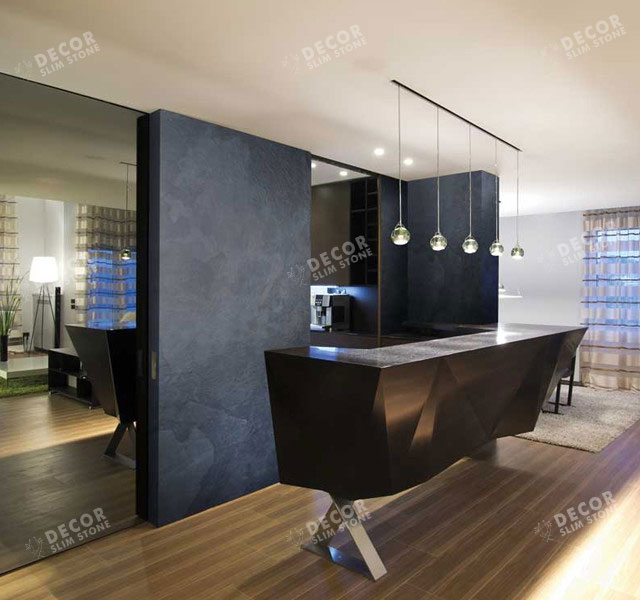 Lamination on wood, metals, plasterboard, fiber cement:
When laminating (bonding) Quick Lam Stone Slim Veneer onto wood, fiber cement, plasterboard and metal, as well as most furniture applications, we recommend a 1 component PU (polyurethane) adhesive. If Stone Slim Veneer is only applied at one side of a carrier material, it is important to have a counter balance on the other side for stability. Mechanically mounted panels which have the Stone Slim Veneer at one side, need a craft paper or foil of at least 150 g/m². Quick Lam Stone Slim Veneer has a natural, rough split able surface with a tolerance of up to 2 mm.
Thickness equalizing additions protect the veneers from being damaged. Proven are 7 mm thick rubber plates with a shore grade of 50 and a temperature Resistance of at least +80˚C.
It is important that the rubber matt has an insulating effect, so that the press time can therefore be extended. Depending on the adhesive type and press temperature of 80˚C, press time is approximately 6 minutes. Depending on the press configuration, the pressure has must be carefully set.
Sealing:
By a single treatment with a good stone sealer, almost all natural stone surfaces are easier to maintain. Not only water but also oil and grease can no longer penetrate into the surface. Sun spots are prevented. For light traffic areas indoors, we recommend sealing with the Stain Stop. For wall, ceiling, furniture and kitchen fronts this is suitable for all surfaces without too much use. Note the processing information from the manufacturer. When being applied on high traffic areas, such as industrial floors and outdoors, a 2 component PU sealer is recommended (KLB 800E). For lower traffic areas such as private homes or apartments, we recommend water based impregnator.
Regular maintenance:
All natural stone surfaces, even if impregnated (sealed), must be wiped moist regularly. We recommend Care Cleaner, which contains a small amount of the impregnator which insures the surface stay sealed. The care cleaner is mixed with water and then can be mopped over the surface not recommended.
Important note: Acid cleaners attack the surface of the stone.