Wood veneers are thin sheets of wood that are glued to a furniture core. They are commonly referred to as "veneers", however, some people refer to veneers as "laminate" too. The use of wood veneers for furniture is very common, as it gives a more luxurious and natural appearance to the furniture. They are commonly used to bring warmth to a room, or to create high-gloss, shiny surfaces on furniture and other objects.
Wood veneers offer a flexible solution for various design aesthetics, easily applied to finished pieces for a range of styles. For those seeking a contemporary feel without committing to solid wood, exploring Slimstone's collection is a wise choice. As leading veneer manufacturers in India, Slimstone provides an array of high-quality wood veneers, ensuring you find the perfect match to suit your style preferences.
How Are Wood Veneers Made?
Wood veneers are made from wood and may be attached to a core, as in a plywood or laminate. Natural wood will generally have visible knots, cracks, and other natural characteristics. Wood veneers are made from softwood timber, so you will always have a high-quality veneer from a wood that has not been damaged by insects or disease.
Wood veneers can be made from any type of tree, and may vary in colour, pattern, and thickness. With the correct veneer, the surface of the furniture becomes hard, smooth, and durable. We are Slimstone, well-known veneer manufacturers in India, delivering the best wood veneers to suit our clients' needs and budget.
Wood Veneer VS Solid Wood Furniture
There are advantages and disadvantages to each, but you have to decide what you want in your furniture first.
Using solid wood for making furniture has many advantages; It is better for the environment because it is less likely to break down over time. The wood is available in many different types, colours, and sizes. With solid wood being more versatile to use than veneer, you can custom design the furniture you want.
Wood veneers are more commonly used on furniture made of wood, instead of solid wood. This is because they are easier to work with. If a company uses solid wood, it will have to cut it into pieces and then sand it down before it can be shaped into a piece of furniture. But wood veneers can be directly applied to a piece of solid wood and the veneer will simply bond to the surface.
Wood Veneers can be made from many different types of wood, including hardwood, softwood, tropical hardwood, and more so they make a great material in the construction of sofas, tables, and chairs. They are usually a cheaper option than solid wood, and are available with a wide variety of finishes. They also give that "soft" or "traditional" look, and easier to make than solid wood furniture.
Solid wood furniture is more expensive to make than veneer. You have to pay for the raw materials, which might be a lot more expensive than you anticipated. The labour costs alone cost a fortune. Wood veneers are cheaper than solid wood furniture, are easier to work with, and are available in many colours, patterns, and finishes.
Wood Veneer Finishes: Oak, Walnut and Painted Oak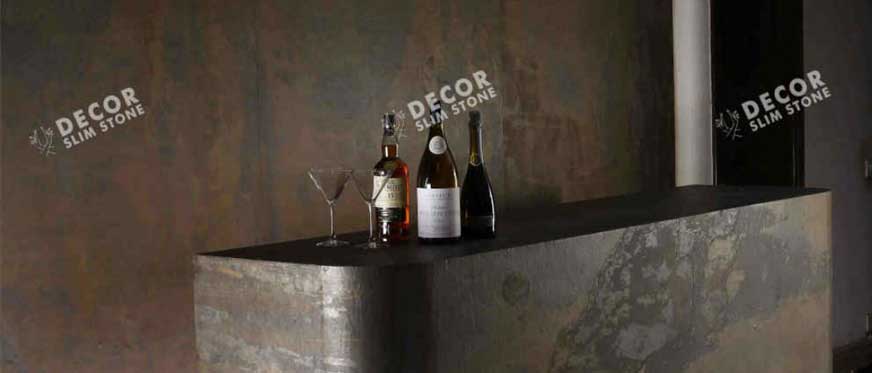 If you find yourself at a crossroads in selecting the perfect wood veneer for your home, don't hesitate to consult with Slimstone's expert team. As distinguished veneer manufacturers in India, they possess the expertise to guide you towards the ideal choice for your design project. One of the key advantages of opting for wood veneers is their diverse range in colors and patterns, offering a plethora of options for your furniture needs. Here are some commonly sought-after wood veneers for furniture design:
Walnut Veneer: One of the most popular wood veneer finishes, walnut has a golden brown colour, which is classic and sophisticated. Its rich grain pattern gives a luxurious look, and the veneer is often used in upscale residential and commercial properties. A beautiful contrast against any other wood finish, its durability adds a unique dimensionality to the piece.
Oak Veneer: Oak is the most popular veneer used in furniture. It looks very chic and elegant due to its dark colour and hard texture. It is also quite a hardwood, making it very durable and strong. It is also the most affordable and is commonly used in dining sets, end tables, desks, and cabinetry. It is often available in light oak, medium oak and dark oak finishes. It has a distinctive colouring that is warm and rich, and can be found in a variety of different finishes. Oak is a versatile wood that works well with a number of other finishes, and is especially effective when paired with bright coloured paints.
Painted Veneer: If you want to try a wood veneer that is a little more daring than the traditional oak, walnut, or cherry, try painted veneer. It's a type of veneer that is painted in many different colours, shades, and patterns. If you're looking for a classic look, you can find the beauty in a painted veneer. It comes in a variety of colours, and as with other types of wood veneers, is usually found in a finish that will match your other furniture. With a warm, rich look, the painted veneer might be your best choice.
Find a wide range of colors, designs and patterns at Slimstone, the best veneer manufacturers in India, and customize your home interiors!
Basics of Cleaning A Wood Veneer Surface
When cleaning a wood veneer surface, such as a dining table or sideboard, we recommend using a damp, soft, lint-free cloth. Wipe along the direction of the wood grain for optimal results. When attempting to remove more tenacious food and drink traces, drop a dab of mild dish-washing soap onto your cloth and wipe in the direction of the wood grain once again.
To maintain your wood veneer looking its best, dust it with a dry, soft cloth on a regular basis. Then, for a quick, non-deep clean, spray a small layer of non-ammonia glass cleaner on a paper towel and wipe it down.
Avoid using furniture polishes that contain wax or silicone when cleaning. Wax, if used, might accumulate on your veneer furniture, resulting in a hazy and uneven appearance over time. Meanwhile, silicone creates an ugly white residue that ruins the polish on the furniture.
To be safe, double-check the ingredients in the cleaning product you're using. It should go without saying that you should never use an abrasive cleaning or cloth on a wood veneer. To avoid damaging the surface, use soft cleaning solutions and clean towels.
Get the best quality wood veneer products from Slimstone, reputed veneer manufacturers in India, to suit your home designing needs.
How To Protect And Maintain Your Wood Veneer Furniture From Damages?
Scuff marks and minor scratches on wood veneers can be fixed easily. These types of scratches occur as a result of normal use. They affect the surface, but will not affect the overall strength of the furniture.
You can apply a high-quality furniture polish. But before applying furniture polish, apply a small amount first on a small area, to ensure that it won't smear or transfer to your furniture. It will help protect your furniture, and also give it the shine it needs.
Deeper scratches are best left to professionals. A veneer specialist can repair any kind of damage to a piece of furniture. They can be repaired using a wood filler, or in some cases, a wood-grinding machine. Try to do a deep clean at least every two to three years.
Limit exposure to sun to minimal. Long exposure to sun can fade the colour of your wood veneer furniture. It can also cause the wood to become brittle, ultimately making it susceptible to damage.
Keep wood veneer furniture away from moisture and water. A damp room will cause the grain to expand, and the wood will lose its original shape. It is best kept away from damp areas, such as a bathroom or laundry room. Water causes wood-veneer furniture to develop and take on that familiar look of splintering.
Protect wood veneer furniture from heat or steam. Hot steam can cause the grain to swell, and could eventually lead to warpage. If heat or steam is directly applied to wood veneer furniture, it may lose its shape and your furniture won't be as structurally sound anymore. If you must place dishes and plates on a wooden table surface, use an oven mitt or a hotpot stand.
Wood veneer is a great material to create beautiful furniture. They are highly versatile and can be customized in many different colors, patterns and designs. They are easily bendable and hence can be plied into different shapes to match your furniture. They are more durable and require little maintenance. You just need to take some extra care in protecting them from damage, which can be easily done with basic cleaning and some household cleaning supplies.
Slimstone, the leading veneer manufacturers in India, can guide you on how to identify the best veneer for your home. Call us today to speak to our experts and get started.