Upgrade your Kitchen with Flexible Stone Veneers
The kitchen is the heart of a home. It's where families gather to share meals and exchange stories. In many houses, children do their homework at the dining table, where mom and dad prepare dinner. It's where the extended family gathers to play a game of cards or board games. As a result, many homeowners update their kitchens to accommodate their changing lifestyle needs.
If you are planning a makeover for your kitchen, you've arrived at the right place. Designing your kitchen requires the right combination of style, functionality, and aesthetics. In this article, we show you why flexible stone veneers are an excellent choice to make your kitchen makeover project a grand success. Irrespective of your decorating style, stone veneers make your kitchen makeover look luxurious and super stylish.
Why use Flexible Stone Veneers in your Kitchen?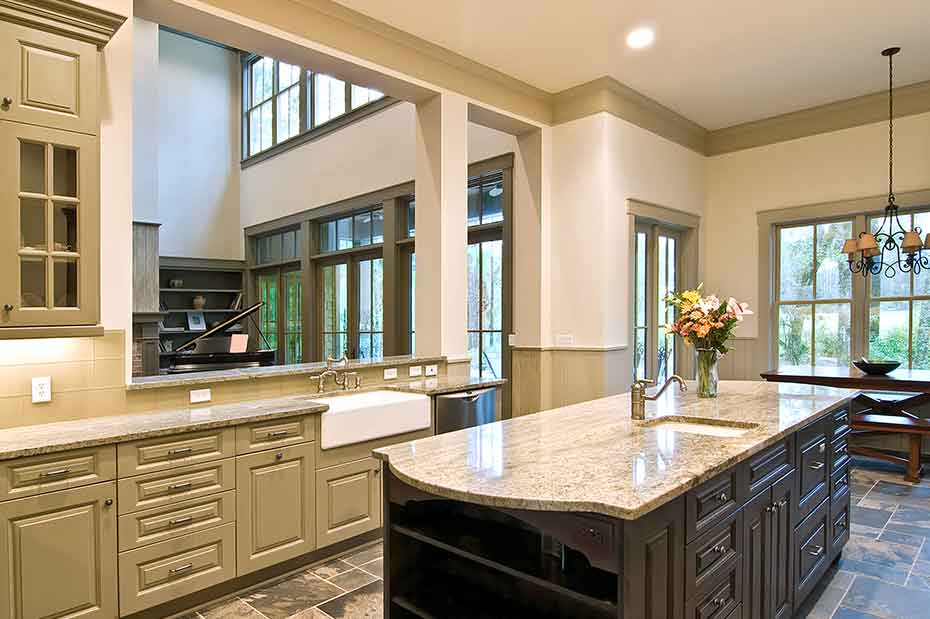 As leading flexible stone veneer suppliers in India, when we recommend our customers to use stone veneers in their kitchen, they are shocked and surprised. Allow us to present our case. A kitchen is a place that gets plenty of use. Any material that you choose your kitchen should be sturdy enough to withstand all the usage – not just from adults, but also kids, pets, and the domestic staff like cooks and maids.
Besides the functionality, the kitchen should also look smart to match the rest of your interiors. After all, you will be entertaining guests in your kitchen when you host dinner parties and family get-togethers at home. Any material that you choose for your kitchen has to be sturdy and aesthetically appealing.
Here are a few reasons why adding flexible stone veneers is an excellent choice:
Naturally Elegant – Irrespective of your kitchen's design theme – modern, contemporary, rustic, vintage, or farmhouse – our range of flexible stone veneers add a warm natural elegance to your kitchens. We've got a wide range of stone wall coverings in different textures, styles, and colours to suit your design tastes.
Ease of Care – Our range of flexible stone veneers is sturdy and robust and easy to maintain. Spills can be cleaned by just wiping down with a moist cloth. It will retain its original appearance for years to come without any repairs.
Return on Investment – Adding natural stone to your home increases its resale value. If you plan to sell your home sometime in the future, adding natural stone veneers will help you fetch a high market value for your home.
Steam and Smoke Resistant – Stone veneer is steam and smoke resistant, meaning you can confidently install it anywhere in your kitchen.
Now that we've highlighted the benefits of installing natural stone veneers in your dream kitchen, here are some exciting ways to use it in your upcoming kitchen makeover.
Unique Kitchen Decorating Ideas using Flexible Stone Veneers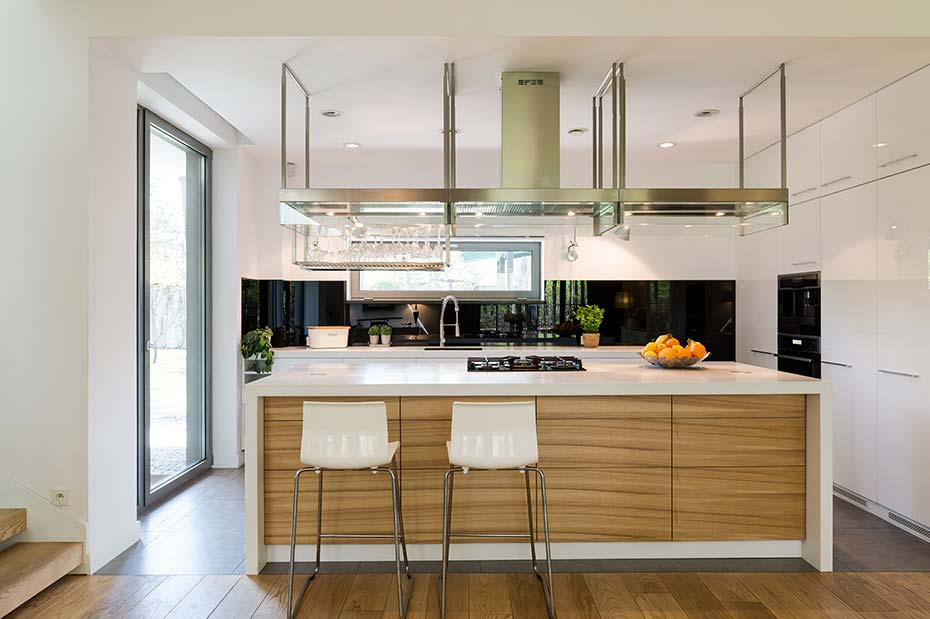 As India's top flexible stone veneer manufacturer, we have a vast collection of stone wall coverings to impress your guests. Make a bold statement by incorporating stone veneers in your kitchen & create a stunning design.
Flexible stone veneers are highly versatile. Here are a few ways to effortlessly incorporate our stone veneers in your kitchen.
Where to use stone veneers in a kitchen?
Around the stove
Kitchen backsplash
Above the kitchen cabinets
On a vacant wall in the kitchen to create an accent wall
To cover pillars
Around kitchen entryways and doorways
To cover kitchen islands
Surrounding kitchen cabinets
Tips to Choose Stone Veneers for Kitchens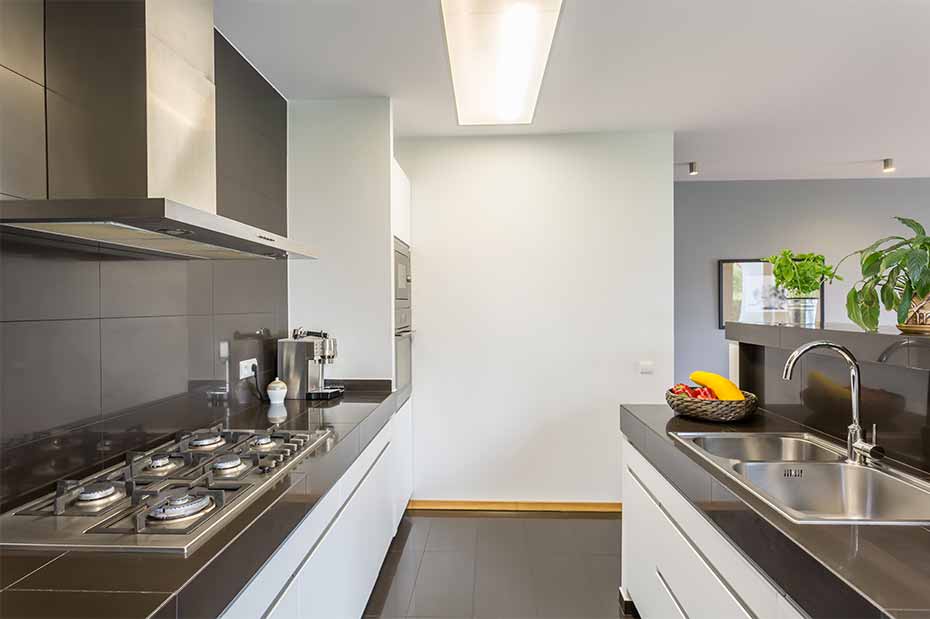 You can browse our stone veneers collection to choose the right pattern that will blend perfectly with the rest of your décor and make your space pop out. Here are a few design tips to help you out:
For traditional kitchens – If you have a traditional style kitchen, consider our classic look with a timeless design. Consider our choices Seoul Macedonian, Vienna Hessonite for traditional kitchens.
For modern kitchens – Contemporary kitchens are characterised by their sleek and clean lines. Hence, you need stone veneers that offer these features. Check out our products Hong Kong Metal Nero, Helsinki that works well for small modern kitchens.
Transitional kitchens – These blend traditional and contemporary designs offering the best of both worlds. Some choices to consider are: Tokyo Emerald, Dubai Copper. These add a rustic and warm appeal to your kitchen while making it look unique and modern.
Blend our stone veneers with another room – Another design option is to extend the stone veneers used in your kitchen with another room. For example, you can line the kitchen entryway with flexible stone veneers and develop it into the dining or living room to create a complete look.
Make your Kitchen Makeovers Perfect with Décor Slimstone
When planning your kitchen makeover, make sure to check our website first. As the No.1 wall coverings suppliers in India, Décor Slimstone has a vast collection of premium flexible veneers for all your projects. Choose your preferred style and match it to the rest of your kitchen. From design to completion, our friendly team can help you in making your dream kitchen a reality. Browse our extensive inventory and find the right style that matches your needs. Don't forget to get in touch with our team for discounts and offers.